Horizon
Horizon Lowline Double Sided
Enhance the ambiance and warmth of your home with the Horizon Lowline Double Sided open gas fire.
Perfect as a stylish room divider with a chimney breast or exposed flue. It features sleek minimalist lines, a floating burner and large viewing area to give your decor an exciting, unique edge.
Providing radiant warmth, the double sided fire is also a great way to divide two rooms whilst keeping a refreshing open feel.
It comes in five sizes – 700, 850, 1100, 1500 and 2000, and pebbles can be alternated with coals.
Features
Stunning new clean face design option
Electronic ignition
Attractive feature in your home
55mj gas input for 700 and 850
65mj input for 1100,1500

 

72mj input for 2000
Power flue option
Available NG and LPG
Custom sizing available
100mm glass fender available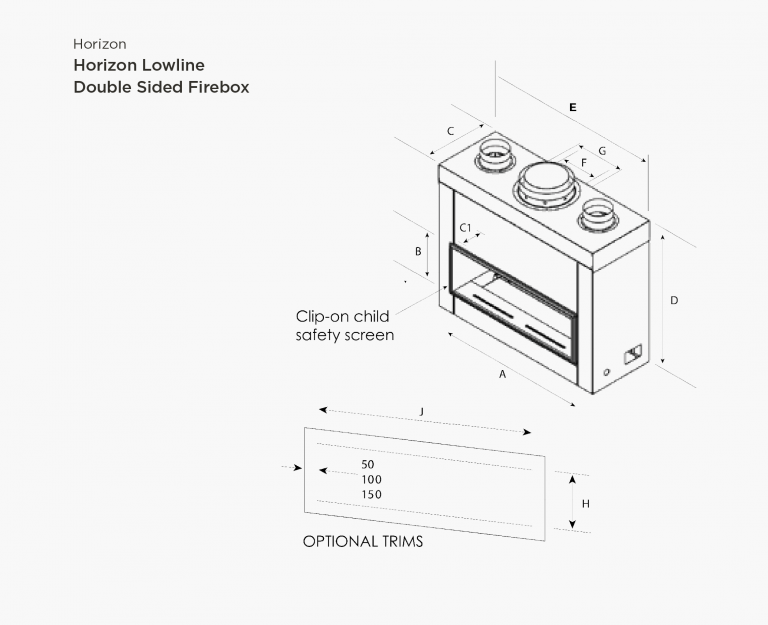 Horizon
Horizon Lowline Double Sided
Firebox Sizing
A 700
B 270
C 450
C1 25
D 770
E 1000
F 250
G 300
H 282
J 720
Gas Input
Nat 55
LPG 39
Media Options
Pebbles
Coals
Firebox Sizing
A 850
B 270
C 450
C1 25
D 870
E 1095
F 250
G 300
H 282
J 870
Gas Input
Nat 55
LPG 55
Media Options
Pebbles
Coals
Firebox Sizing
A 1100
B 290
C 450
C1 25
D 870
E 1345
F 250
G 300
H 282
J 1120
Gas Input
Nat 65
LPG 68
Media Options
Pebbles
Coals
Firebox Sizing
A 1500
B 290
C 435
C1 38
D 1000
E 1746
F 300
G 350
H 282
J 1520
Gas Input
Nat 65
LPG 68
Media Options
Pebbles
Coals
Firebox Sizing
A 2900
B 290
C 435
C1 38
D 1000
E 2246
F 300
G 350
H 282
J 2020
Gas Input
Nat 70
LPG 72
Media Options
Pebbles
Coals